Prosthodontics deals with the diagnosis, treatment planning, rehabilitation and maintenance of the oral function, comfort, appearance and health of patients with clinical conditions associated with missing or deficient teeth and/or oral and maxillofacial tissues using biocompatible substitutes.

Teaching Programmes include BDS, MDS, Certificate course in Aesthetic Dentistry, Certificate course in implants Dentistry, PG Certificate course in Oral Implantology (IGNOU). The department offers 05 specialty clinic services and are Complete Denture Prosthodontics, Removable Partial Denture Prosthodontics, Fixed Partial Denture Prosthodontics, Implantology, Maxillofacial Prosthodontics.

The total space provided for the dept is 9969 sq.ft and is allocated for the following areas - Professor room, Staff room, UG Clinic & Lab, PG Clinic & lab, Wax –up lab, Phantom head lab & Pre-clinical Lab. The department has separate Clinical areas for UG & PG students and a modern fully equipped Pre- Clinical Laboratory & Ceramo-metal Laboratory. Some special equipment available in the department are Alginate mixer, Semiadjustable & Fully adjustable articulators, Phantom heads @ Manikins for preclinical training, Autoclave, Casting Machines, Ceramic furnace, Dental Lathes, Pre-heating furnaces, Sand Blaster, Lab Micromotors, Duplicating unit, Electropolishing units, Model Trimmers, Polymerization unit, vibrators, Vacuum Mixers, Flexible Resin Pressing Unit, Ultrasonic cleaners & Scaler.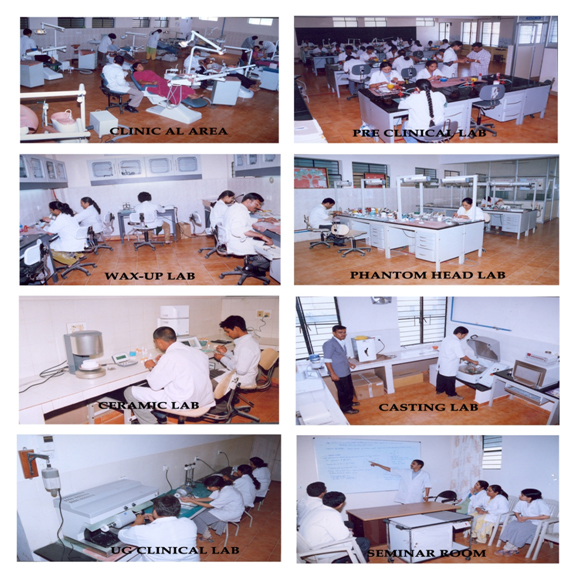 The curriculum is designed such that students go through simulation and bench courses to learn the fundamental skills, and then evolve to more complex cases in the Prosthodontic clinics. Courses are evaluated and updated annually for contents and are augmented with technology to teach the latest techniques in Prosthodontics with comprehensive treatment planning in all aspects of prosthodontic care including Implant Dentistry, Occlusion and Aesthetics. The department is involved in a lot of research activity in collaboration with other scientific centers. We endeavor to constantly improve our teaching techniques/methods. Dental Students are taught the value of life-long learning. We strive to let our patients have a unique, holistic, professional experience when they visit our clinics. We are also committed to providing the highest standard of dental care available and fostering long-term relationships with our patients. Our aim is to inspire confidence and trust that comes with an aesthetically and functionally restored, healthy smile.

The department has dedicated & motivated Teaching staff. The up gradation of the skills of staff & students is enhanced by organizing various CDE Programmes, symposia, hands-on workshops. The department has an impressive pass percentage & university ranks have been obtained by the students.

The department has a well equipped Library with text books, Journals, educational charts, demonstration CD's, display models, educational cassettes, chapter wise question bank, previous years question papers & multiple choice question bank. The dept. has computer, broadband services & WiFi facilities. The department conducts social service & community extension activities.
SERVICES OFFERED
| | |
| --- | --- |
| Sl No. | TYPE OF TREATMENT |
| 1 | Removable Partial Denture |
| 2 | Complete Denture |
| 3 | Flexible Partial Denture |
| 4 | Denture Repair |
| 5 | Relining & Rebasing |
| 6 | Crown & Bridge – metal Ni – Cr / porcelain |
| 7 | Veneers & Acrylic Jacket Crown |
| 8 | Dowel crown |
| 9 | Inlay |
| 10 | Gold full crown |
| 11 | Obturator |
| 12 | Splints & Stents |
| 13 | Maxillofacial Prostheses |
| 14 | Implant supported complete denture prostheses |
| 15 | Implant supported crowns |
AREAS OF RESEARCH INTEREST
| | |
| --- | --- |
| SL NO | AREA OF RESEARCH INTEREST |
| 1 | Survey of the various clinical materials available |
| 2 | Dental materials |
| 3 | Implant |